I get it. Nobody gets excited about moving into an old, outdated house.
Additionally, why would you want to go through the trouble of moving and then having to live through a renovation or even multiple renovations?!
But, hear me out on this.
There's a dark side to purchasing newly remodeled homes and it's something I think more people should know about. Hence, the reason for this post.
What's wrong with a newly remodeled home?
As a remodeling contractor, I get a lot of calls from people that have recently purchased homes. These are calls from people that are interested in renovating.
But, wait a minute! If they just purchased this newly remodeled home then why are they calling? Specifically, they are calling because they need to fix some issues with their newly remodeled bathroom.
What sort of issues could a newly remodeled home even have?
Personally, I specialize in bathroom renovations and tile installation. So the problems that I get calls for would be in these specific areas. So this post won't get into the common problems with newly replaced roofs, recently renovated kitchens, or other areas of the home.
Nevertheless, I get quite a few calls about loose tiles, cracked grout joints, and leaking showers. Yes, this might be the most common issue of the bunch. Leaking showers in newly remodeled homes.
Firstly, let's get into why homes are renovated in the first place. This gets to the root of the problem.
The motivations of the seller
We have to look at this from the perspective of the seller of the home. What is the seller's motivation for renovating prior to putting the home on the market?
The reason for renovating isn't to give the buyers the best quality home. Not in the least. Here are two reasons a seller would renovate before listing their home:
They can sell at a higher price
The home would be more desirable on the market
Making it more desirable means less time on the market and the higher price means more money in the seller's bank account.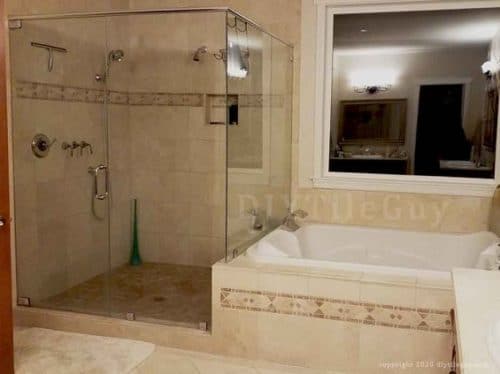 But renovating doesn't pay off, does it?
Let's use a bathroom remodel as an example:
According to
Remodeling Magazine's 2020 Cost vs Value Report
, the national average (USA) for a midrange bathroom renovation is $21,377. This is for a complete renovation of a small 5×7 bathroom with one sink, one toilet, and one bathtub.
However, of that $21,377 it says that, on average, a homeowner can expect to recoup just 64% or $13,688 of that money.
So, it doesn't really pay off, right?
Short cuts make long delays
Keep in mind that the seller is renovating to help themselves. This means that if a bathroom renovation will only pay them $13,688 they are going to want to spend less than that. Hence, the cutting of corners.
For instance, what if they only spend $5000 but are able to recoup $10,000? Would that even work?
It works by cutting corners. What if you don't remove the existing flooring and just install new flooring right over the top of it? Maybe you don't change the vanity and simply install a new countertop over the existing?
Do they really need the expensive licensed plumber? What if they were to go with the low bid for every single contractor?
Remember the leaking showers that I mentioned earlier?
When it comes to shower renovations, it's quite common for a low bid contractor to not purchase and install quality materials.
In fact, it's quite common to purchase and install low-quality materials and/or incorrect products all in the name of saving some money.
They probably won't use a waterproofing membrane behind the tile. They probably won't do a flood test on the shower floor to see if it leaks before they install the tile.
Oftentimes, the low bid contractor will be a do-it-all handyperson and not really understand the right way to build a shower or properly perform any of the other remodeling tasks either such as the plumbing mentioned above.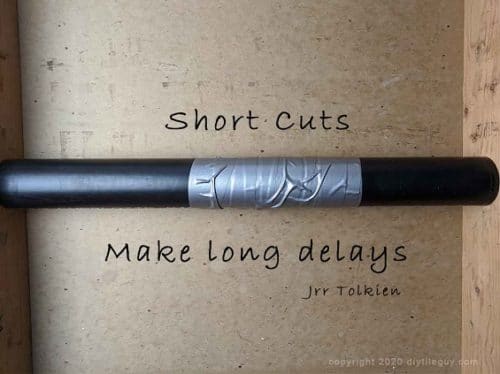 Why it works
But what a cheap renovation can do is make the home appear modern and desirable without costing as much as a proper renovation. That's the whole point: it just has to impress on the initial walk-through.
For instance, I had one homeowner that bought a home from a house flipper. Do you ever wonder how good the quality is of a flipped house?
Well, he told me that as they lived there he would notice things around the house. After living there a while he said:
"I've realized I'm going to have to renovate this whole house and redo everything that [the home flipper] did!"

one of my past remodeling clients
Unfortunately, he's not alone. On another shower remodel that was leaking down into the kitchen, I found that the signs of a leak had been covered up and the shower not used prior to the sale.
The new homeowners, of under one year, were stuck holding the bag and paying to fix it right.
What should you look for before purchasing the home?
I don't have all of the answers to this. There's no fool-proof way of seeing everything that is potentially wrong with the home. However, here are a few things that might help.
Home Inspections
Obviously, you should have your home inspected prior to purchasing. This is commonly a requirement of a lender anyway.
But while home inspectors have their list of things they check for they are, by no means, infallible.
I did some work for one person several years ago that bought an existing home and paid two different inspectors to look at the house. Well, about a year and a half after purchasing his $750,000 home he found that he had over $400,000 worth of structural repairs to do and was looking into lawsuits against the inspectors.
Additionally, even the good, thorough, and experienced home inspectors will rarely be able to spot waterproofing troubles in a shower.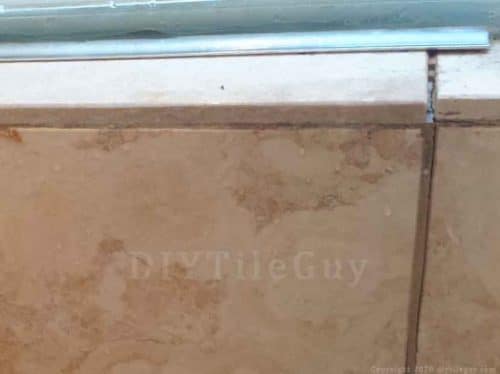 Leaking showers can be tough to spot
The signs of a leaking shower can be tough to identify. Things like cracked grout joints can be signs of water intrusion and the wood swelling from underneath.
But cracked grout joints are often fixed or regrouted prior to listing the home for sale. Oftentimes, the newly grouted areas are explained as "maintenance."
Furthermore, just because a grout joint is cracked doesn't necessarily mean that the cause is water intrusion.
Shower curbs, half-walls, and benches are common-trouble areas to have water problems as many don't take the simple preventative steps to waterproof properly.
One final tip might be to look for signs that the walls have been patched immediately next to the shower and in the walls behind. Looking at the ceiling immediately below, assuming the shower is upstairs, can show this also.
If the shower is on the main floor then, hopefully, the home inspector will check below the showers to look for signs of water troubles. Assuming the home has an underfloor, of course.
Still set on the newly remodeled home?
While the newly remodeled home might be exactly what you are looking for, I would advise you to take a good and thorough look at things.
How recently were the renovations?
Are there any warranties on the remodeled work?
Were there licensed contractors and, if so, what are the names of the companies?
Are there permits on file with the local jurisdiction for the renovation work?
Are the remodeled areas risky if they fail? For example, shortcuts on the roof or electrical work can have higher consequences than shoddy drywall work.
Will you be able to handle emergency renovation work in the first couple of years if the need arises?
I've found that if the renovations were completed 2-4 years, or more, prior to listing the home then the workmanship is typically better than renovation work done immediately before selling.
Final thoughts
Even though I hate to be a downer about the new home that you're looking at I would encourage you to investigate what you might be getting into.
I can't ignore the number of phone calls that I get about this very subject. However, I don't know what can be done about it other than to be aware of what you are purchasing.
Hopefully, your house hunting will go well and there won't be any unpleasant surprises lurking behind the walls.
And check out flipping the flip if you want an example of someone that bought a "flipped" home.